Posted on 13 August 2012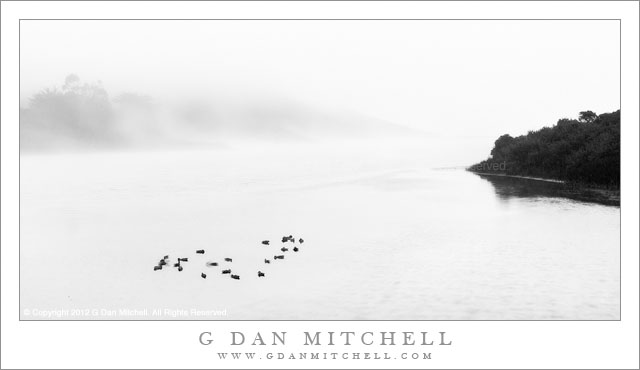 Birds, Evening Fog, Rodeo Lagoon. Golden Gate National Recreation Area, California. August 11, 2012. ? Copyright 2012 G Dan Mitchell ? all rights reserved.
Evening fog obscures the landscape of Rodeo Lagoon, Golden Gate National Recreation Area.
There is a somewhat unlikely story behind this photograph, but a pleasant one. Earlier on this day I had been in downtown San Francisco, in the heart of one of the more urbanized (and not in the good sense of the word) areas of the town. The reason for my visit was a pleasant one, and I do like San Francisco a great deal, but it was a very urbanized experience. I planned that after my downtown event concluded I would go do some evening and perhaps night photography elsewhere within an hour or so radius of The City, since I needed to be back there at about 11:00 p.m. It was mostly sunny in San Francisco, though there were a few wispy fog clouds present, so I started driving more or less west to see what might turn up.
As happened the last time I tried this pattern earlier this summer, as I drove I ended up in more fog rather than less. I recalculated and, again, thought that I?d try to cross the Golden Gate Bridge and see if I could get above the incoming fog by climbing into the Marin Headlands. The fog on the bridge was very thick and it was quite windy. At the north end of the bridge I headed up the hill ? there was tantalizing, glowing light somewhere out there in the fog that suggested some clearing to my west and south, but the road itself was completely socked in. Optimistically (or foolishly!) I continued on to the area near Point Bonita, but I could not get out of the fog. It was now getting very close to actual sunset ? though I could only detect this by a general darkening of the murky gloom ? and I figured I might as well drive down towards Rodeo Beach to see what was there. As I crossed the upper end of Rodeo Lagoon I looked to my left and saw this small group of birds congregating not far from the shore, and in the fading light I decided that it was going to be this shot or no shot at all. I pulled over, took out the camera with the prime lens that I had used earlier for street shooting still in place, attached camera to tripod, and walked over close to the edge of the water.
After all of this driving, I was suddenly conscious of the quiet of this place in the evening light. The thick fog was blowing rapidly up the lagoon from the beach and glowing in the backlight as the light was fading, and three fog horns producing the tones of a minor triad (!) were slowly and mournfully sounding as I made several exposures of this scene. I finished, the light became very dark, and I drove a bit further so that I could walk across the beach to stand at the edge of the surf in the wind and fog before leaving.

G Dan Mitchell is a California photographer whose subjects include the Pacific coast, redwood forests, central California oak/grasslands, the Sierra Nevada, California deserts, urban landscapes, night photography, and more.
Blog | About | Flickr | Twitter | Facebook |?Google+ | 500px.com | LinkedIn | Email
Text, photographs, and other media are ? Copyright G Dan Mitchell (or others when indicated) and are not in the public domain and may not be used on websites, blogs, or in other media without advance permission from G Dan Mitchell.
Model Name
Canon EOS 5D Mark II
Title
Birds, Evening Fog, Rodeo Lagoon
Title
Dan-at-Shuksan_60SquareCrop
Category:
Photographs: Nature, Photographs: Northern California, Photographs: Wildlife
Tags:
america, area, atmosphere, birds, california, county, evening, fog, gate, ggnra, golden, haze, headlands, historic, lagoon, landscape, license, marin, mist, national, nature, north, obscured, park, photo, print, recreation, rodeo, seascape, shore, sky, stock, tree, usa, water, wildlife
Source: http://www.gdanmitchell.com/2012/08/13/birds-evening-fog-rodeo-lagoon
manson bubba watson recent earthquakes fbi most wanted list stuttering james van der beek dyngus day