The America's Got Talent results this week remained straightforward... even though Howard didn't make any predictions. Howie, meanwhile, spent his time off messing with the contestants, mostly Big Barry and one of the members of LionDanceMe. Let's hope they could see through Howie's awful hairpiece.
I still can't believe how dumbstruck Sharon was to see the fourth and fifth place contestants. It's as if she didn't understand that she could only make a judgment in 20 seconds. She's been on the show longer than Howie and Howard but still wastes the most time.
Oh well. On to the results!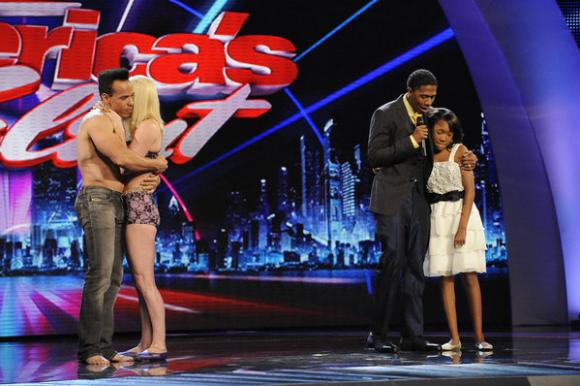 Eliminations 1 - The Obvious Advances
Tim Hockenberry is a good singer, but I thought his choice of song was awful. His position as last to perform gave him a lot of help, because if he was first, the judges may have had heavier praise for Danielle or Ben Blaque. My biggest concern for Turf's voting was that he was on second on a two hour show. While his routine was clean, the fact that Howard continued to mention watching out for Unity In Motion could have also done Turf a disservice.
In: Tim Hockenberry, Turf
Eliminations 2 - Compensation
Lisa Clark Dancers needed a better choreographer. The one girl claimed they "couldn't do anything better" and that had to be because they were told what to do. The music, costuming, and choreography failed a very good young dance group. The All Ways should have picked a song that had more roots in rock than trying to modify a techno song.
Aurora Light Painters didn't think big enough for their concept. I don't get the appeal of Big Barry outside of him being like watching a car accident. If I had to pick one of the four I'd pick The All Ways, but none of them deserved to advance.
Out: Lisa Clark Dances, The All Ways, Aurora Light Painters, Big Barry
Eliminations 3 - Variety
Tom Cotter started off a bit weak with his analysis of phrases but he eventually found his footing before his 90 seconds ran out. I prefer his self-deprecating routine over his analysis pieces, but both turned out strong. In a very weak group of performers, his comedy was a point of difference. Consider the fact that there were four singers and two dance acts, Tom stood out.
LionDanceMe was forgotten by the time Turf performed because they did a lot of the same. Hawley Magic's act was easy to decipher and a bit too old-magic to succeed. While I'd love to see a magic act succeed, it shouldn't be Hawley.
Out: LionDanceMe, Hawley Magic
In: Tom Cotter
Judge's Choice - Donovan & Rebecca vs. Danielle Stallings
I thought that Donovan & Rebecca had it in the bag; I placed them at number two right behind Tom Cotter. The fact that they were either fourth or fifth disappoints me. Ben Blaque could have stolen some of their votes, but clearly not enough to intimidate any of the top five acts this week. Danielle Stallings could have chosen a stronger song that didn't come off as whiny.
She has pipes, but not the maturity that Donovan & Rebecca show when they perform. Watching Traces makes me believe that Donovan & Rebecca have a place on this show.
Out: Ben Blaque
Danielle Stallings' Votes: Sharon
Donovan & Rebecca's Votes: Howard, Howie
Source: http://www.thehollywoodgossip.com/2012/07/americas-got-talent-results-without-a-trace/
banana republic apple store academy barnes and noble nook 12 days of christmas a christmas carol arkansas football player dies