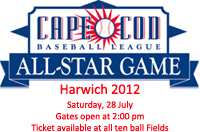 The annual Cape Cod Baseball League All-Star game took place this past Saturday night in Harwich, Massachusetts as the Eastern Division hosted the Western Division. Here are five pitchers that are worth following that took part in the 2012 Cape Cod Baseball League All-Star Game. We have included video from the game where possible.?
Sean Manaea (Indiana State)
Throughout the summer, the 6?5 215 pound lefty has been thrilling scouts and baffling hitters with a 4-1 record and a 1.44 ERA in eight games (seven starts). He has shown excellent control walking six batters while striking out 75 in only 43.2 innings pitched. Many scouts didn?t have Manaea on their list to watch at the beginning of the summer but he has become the top arm in the league by far.
In the All-Star Game on Saturday, he had an ?off-night? striking out only two batters while giving up a hit which he was able to eliminate with a nasty pickoff move. His arm action reminds me a little bit of current Chicago White Sox Pitcher Chris Sale who also shot up the draft stock with an excellent summer a few years ago in the Cape League. He ended up sitting around 95 MPH in his inning of work and was very deceptive with his pitches.
Nick Rumbelow (LSU)
Nick came into the summer working out of the bullpen for the 2012 season for the LSU Tigers and has continued that with the Wareham Gatemen. He has appeared in 14 games this summer, with a record of 1-0 with a 3.32 ERA in 21.2 innings pitched. Rumbelow has dominated hitters striking out 36 while walking 10.
He continued his dominance in the CCBL All-Star game dazzling hitters with a hard deceptive fastball as he struck out one while allowing a hit. I was highly impressed with how he was able to move the fastball in the zone while changing the eye level of the batters.
Jeff Hoffman (East Carolina)
Hoffman split his time in the college season between the bullpen and the starting rotation. He finished the season with 19 appearances while making 10 starts. He ended up with a 3-2 record with a save and an ERA of 3.67.
He has improved immensely this summer going 2-1 with a 2.40 ERA in six games (five starts) totaling 30 innings pitched. He has struck out a batter an inning while walking ten. In the All-Star Game, he was touching mid-90?s with a very good curveball that hitters were struggling with.
Dan Slania (Notre Dame)
You want the simple story on Slania? The guy is a large as he is listed at 6?5 and 265 pounds from Tucson, Arizona. He served as the closer for the Fighting Irish this past spring where he was one of the best pitchers in the Big East Conference. He went 3-0 including 13 saves with a 2.03 ERA in 31 innings pitched. He struck out 37 batters while walking 12.
This summer hasn?t been different as he has served as the closer for the Cotuit Kettleers getting into 17 games out of the pen with a record of 1-0 including eight saves and an ERA of 1.82 in 24.2 innings pitched. He has struck out 36 batters while walking only a measly three. In the All-Star game on Saturday night, he gave up a run on two hits in the ninth inning but did strike out two batters. He was sitting around 95 in his inning of work and is a player to watch this upcoming spring.
Michael Wagner (San Diego)
Wagner had an outstanding season with the San Diego Toreros primarly working out of the bullpen with 29 relief appearances and two starts. He went 5-2 including 19 saves with a 2.58 ERA in 59.1 innings of work.
This summer in the Cape Cod Baseball League with the Chatham Anglers, he has worked as a starting pitcher with five starts in six appearances. He has a 2-2 record and a 1.98 ERA in 27.1 innings pitched while striking out 30 batters and walking 14. He didn?t allow a baserunner in Saturday?s All-Star game while having a fastball around 94 MPH.
Other Players to Watch
David Garner (Michigan State)
Matt Boyd (Oregon State)
David Whitehead (Elon)
Bryan Verbitsky (Hofstra)
Source: http://www.collegebaseballdaily.com/2012/07/30/2012-cape-cod-baseball-league-all-star-game-5-pitchers-to-watch-and-more/
project m rubio colts colts big ten tournament 2012 dennis quaid bruce weber fired